Soya beans are an exceptional source of protein and vital nutrients which provide much-needed nourishment to the body. When cooked properly, they are an exceptional treat for a vegetarian platter. This recipe comes from the ever so popular Manchurian twist that has been made popular by the Chinese community living in Kolkata since British Era.
Like the most Manchurian recipes, the preparation includes two stages – first, preparation of spicy batter to dip the soya beans and fry them and secondly, to saute the fried soya beans in onion and bell peppers along with various sauces and spices. Though the recipe seems like any other Manchurian recipes, the preparation is intricate and needs to be made with care to plate the most tasteful dish. Let's start chopping!
INGREDIENTS
Soyabean Chunks – 100 g;
Cornflour – 4 teaspoons;
Maida – 4 teaspoons;
Ginger – Garlic Paste – 1 teaspoon;
Turmeric Powder – 1 teaspoon;
Red Chilly Powder – 1 teaspoon;
Onion – 2 medium size;
Capsicum – 2 medium size;
Curry Leaf – 10 – 20 leaves;
Green chillies – 7 – 8;
Yogurt – 3 teaspoon;
Soy Sauce – 3 teaspoon;
Tomato Ketchup – 3 teaspoon;
Ginger – Garlic Paste – 1 teaspoon;
Salt to taste
PREPARATION
Marinate Soyabean
Soak Soyabean in warm water with a pinch of salt for 20 minutes.
Drain the soyabean and squeeze any extra water from the chunks.
Prepare a mixture of cornflour, maida, ginger-garlic paste, a pinch of turmeric powder, red chilly powder and salt.
Coat the soybeans chunks with the mixture along with water(based of requirement).
Set aside marinated soyabean chunks for 30 minutes.
Gravy Preparation
Fry the soyabeans until golden brown and keep them aside.
Dice onion and capsicum as shown below.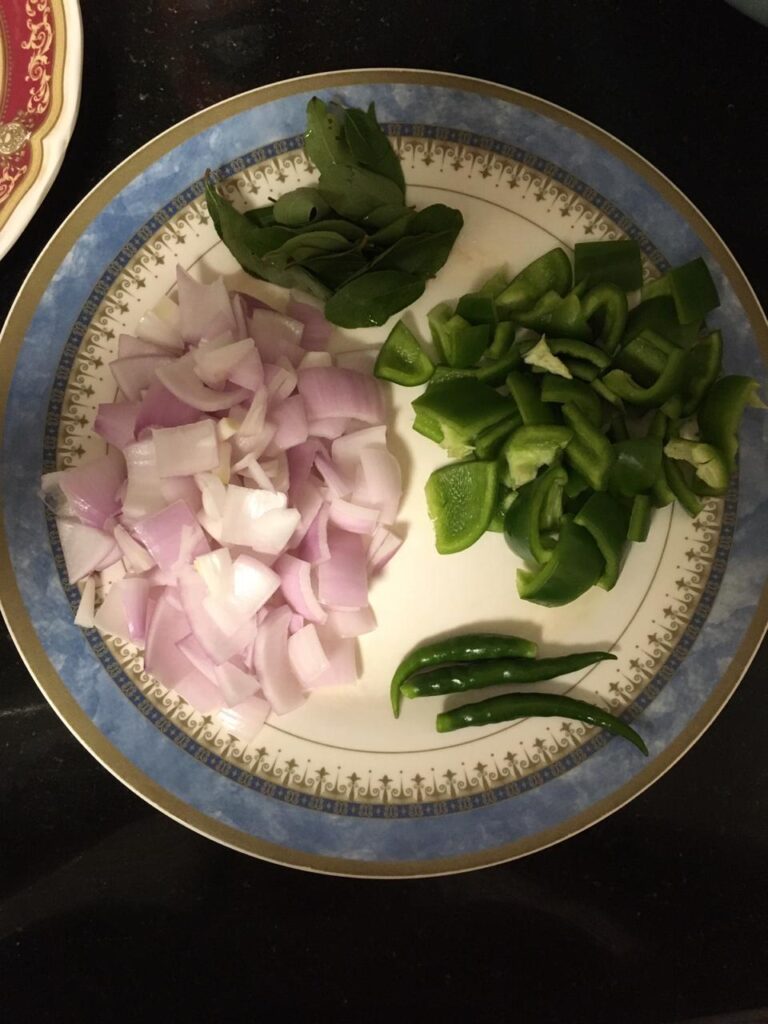 Out of 7-8 chillies, slit 2-3 chillies depending on how spicy you like. Keep rest of the chillies as a whole.
In a kadhai/wok, fry the curry leaves along with chillies and set aside few chillies and all of the chillies for garnishing.
Add onion and slit chillies in the kadhai and saute for 2-3 minutes.
Once the onion starts to turn pink, add the capsicum along with 1 teaspoon of ginger-garlic paste. Fry them together till the raw ginger-garlic smell disappears.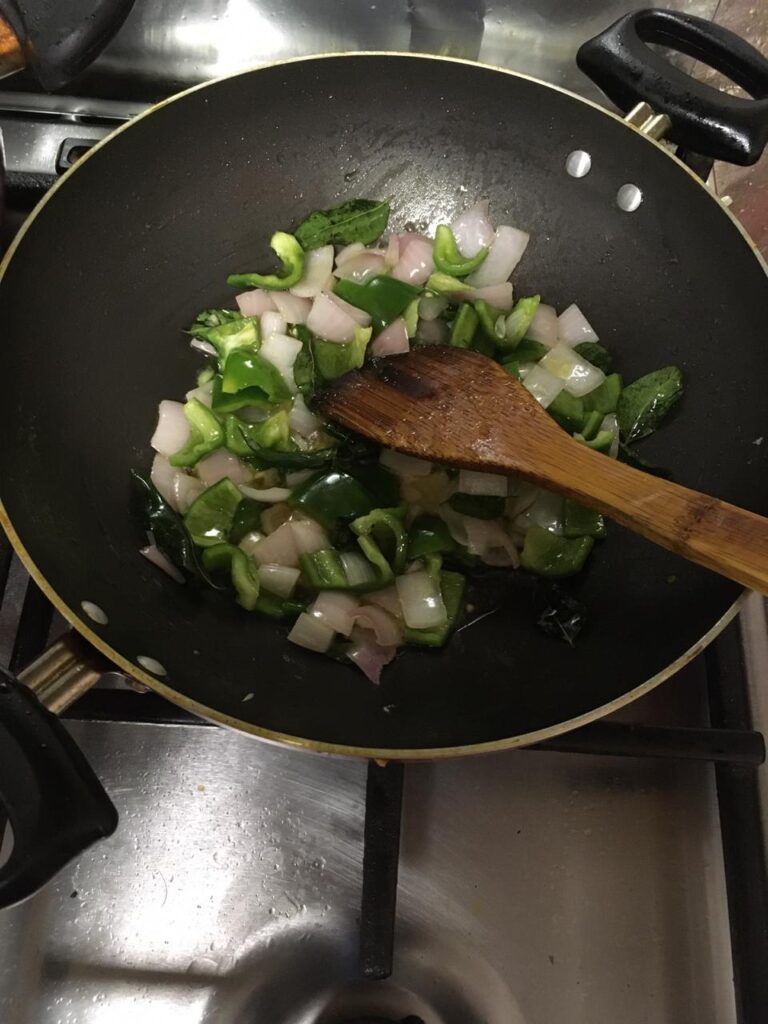 Add a pinch of salt, turmeric powder and red chilly powder and mix them together.
Combine yoghurt, soy sauce and tomato ketchup in a bowl. I used Heinz sauce which has a sweet after taste. In case you are using spicy sauce, add a little sugar to it as the sweetness goes well with the dish. Add the mix to the kadhai. Mix them well.
Add the fried soyabeans and mix them well.
Add 2 cups of warm water along with salt as per your taste.
When the water starts bubbling, add cornflour syrup. (1 teaspoon cornflour mixed with little water).
Cover the lid and cook it on high flame.
Cook it until the soyabeans are well coated and the mixture is dry. You can skip the step if you want a dish rich in gravy.
Garnish the dish with the fried curry leaves, chillies and serve it hot.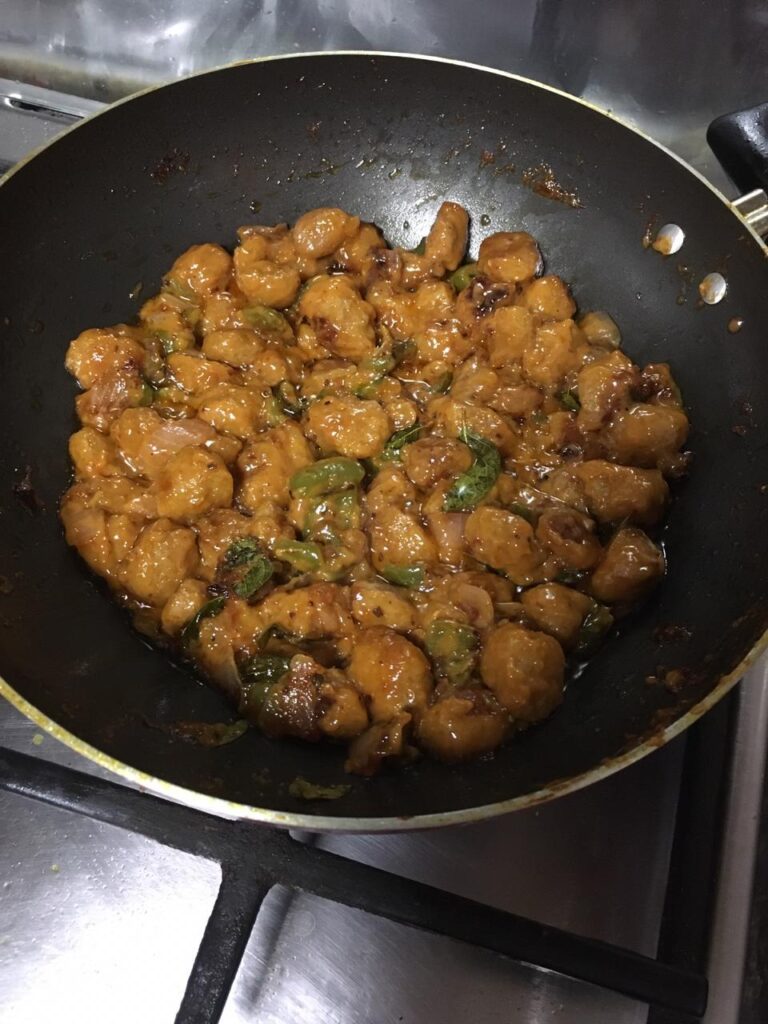 Served with rice or parathas, the dish is a healthy treat for a vegetarian meal. Soya beans provide much needed nutrition and the Manchurian preparation makes it a treat for your platter. Do give it a try and let us know your thoughts in comments below or on our social media pages!