Kolkata is not only known as the city of joy, but also the former British capital. It is often called the cultural capital of India and for a reason! The hometown of Tagore has its own rich history which reflects through its captivating art, grand architecture and magnificent literature. Every architecture, every street has its own story to tell. This vibrant city is also known as the birthplace of Indian Nationalism as well as the birthplace of modern Indian Literature. The city has nourished some of the greatest and most celebrated freedom fighters, writers, poets, musicians, painters, filmmakers, economists, scientists, sportsperson and what not! Kolkata has always been way ahead from the rest of the country when it comes to modernism. The city is a perfect amalgamation of art, history, culture and modernism. Having grown up in this city has naturally taught me a lot of things about art and literature and I can't be grateful enough for that.
When it comes to travelling around Kolkata there are loads of places to see and visit and there are plenty of articles on that. But some places or activities are unconventional and generally not included in the itinerary. These places or experiences are as fascinating as the conventional ones. So here are 8 offbeat activities you can do around Kolkata.
Flower Shopping at Mullick Ghat Flower Market
Mullick Ghat Flower Market, built around 1855, is not only the biggest flower market of India but also of Asia. This market gives you a splendid sensory experience. So many different and vibrant colours, different fragrances of thousand of flowers will keep you busy and lost for quite a long time! You will see orange and yellow marigolds strung together forming huge chains, roses of different colours, lotuses, hibiscus, sunflowers and what not! So many different types of flowers we get to see here, I don't even know names of. A local flower called "Togor" that resembles jasmine is highly sought after.
This is also one of the busiest markets of Kolkata. This market gets to its business as early as 4 am. People from different backgrounds come here for flower shopping, be it for the daily religious offerings or for social functions like wedding and parties. Most of the big hotels of Kolkata get their flowers from this market only. Not only that, this market exports flowers to Europe as well as different parts of India and Asia.
Located near Howrah Bridge and beside Hooghly river, this place is a photographer's paradise because of its colourful existence, and amazing location. Also, if you are planning to visit this place visit early morning to get the best essence of this place.
Visiting Kumortuli
Kumor means 'potter' and Tuli means ' place', Kumortuli is traditionally potter's quarter, beside Hooghly river. You don't get to see such places everywhere. Around 17th-century, potters from Krishnanagar came to Kolkata to earn a better livelihood by making clay idols and other household items. Today hundreds of artisans live here and earn their living by making beautifully handcrafted idols. Idols are mostly of different gods and goddesses and they export them different parts of the country as well as foreign countries.
It is right before the Durga Puja, this place becomes alive, so unreal. You can spend a day admiring the artists when they give the final touch to the idols, a different experience altogether! It's a real delight to see their craftsmanship, as if they give lives to the clay idols. Each year, as many as 12000 Durga Idols are made and are exported to more than 80 countries worldwide for the Indians staying abroad. You can visit this place anytime you want, but the best time to visit Kumortuli is from August to September, right before Durga Puja.
Visiting Old Churches
When someone visits Kolkata, they never forget to stop by the most famous St. Paul's Cathedral Church. But there are few other churches too that can keep you busy for a few hours. These churches are quite old and they are fascinating.
Located at the Armenian street, The Armenian Church is possibly the oldest church in the city. This Church was first built in the year 1688 and after a massive fire in 1707, it was reopened in 1724 after restoration. This place will give delight to history enthusiasts as well as art enthusiasts. This place gives us a glimpse of Armenian culture and belief. The Church is also decorated with three paintings by English artist AE Harris, "Holy Trinity", "Last Supper" and "The Enshrouding of Our Lord". The Church opens at 9 am and closes at 4 pm.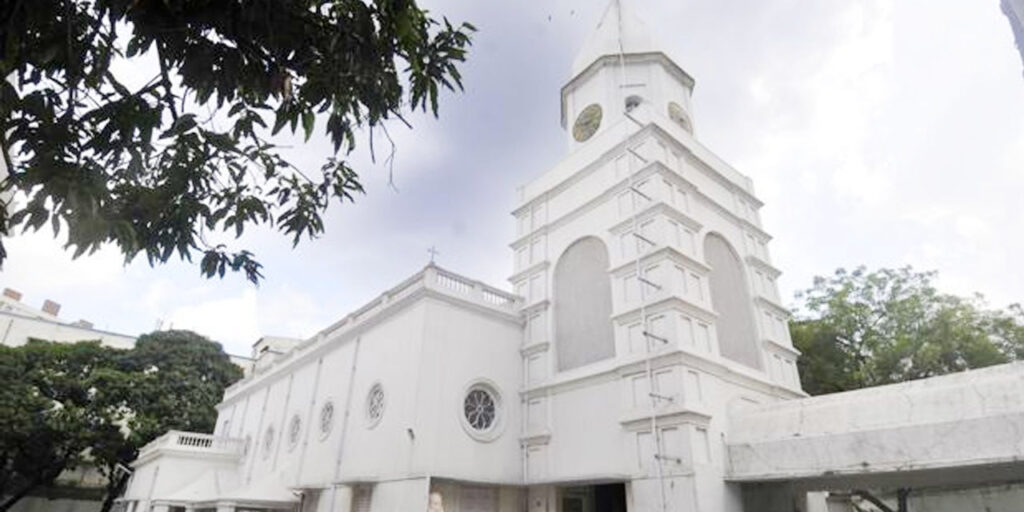 Another beautiful church in Kolkata is St. John's Church located at the northwest corner of the Raj Bhavan. Though it is not as old as the Armenian church but this church was among the first architectures that East India Company established in India when Kolkata became the capital of British India. The foundation stone was laid by Warren Hastings, the Governor-General of India in 1784. This church is unique for its brilliant Neoclassical architectural style. It is built of a combination of stone and brick and was commonly known as "Pathure Girja".A stone spire 174 ft tall is its most distinctive feature. The spire holds a giant clock. The Church was constructed on an old graveyard, so there are many tombs and memorials. The Church opens at 8 am and closes at 5 pm.
Visiting the National Library
Do I even need to mention this place is book lovers' paradise? The Calcutta Public Library was founded in 1836 and later in 1903 it was merged with Imperial Library for public use by the former Governor-General of India, Lord Curzon. After independence, it was renamed as the National Library of India and in 1953, Maulana Abul Kalam Azad reopened it for public use. This place has over 2.2 million books including digital books, periodicals, maps, manuscripts. It has around 86,000 maps and 3200 manuscripts in different languages. If someone loves to read, this place should be on their list. There are also rare books that can't be found anywhere else.
If you are not a book lover, you can still check this place out because its full of greenery in the middle of a busy, polluted city and spread over an area of 30 acres. The building itself has a great historical and architectural value. It gives us a glimpse of colonial architecture. The green windows and doors against the white walls, tall pillars and arches, roman beams, fireplace, dining table and vintage London made grandfather clock used by British viceroys make this place so grandiose. Another fun fact, this place is famous for being haunted. To see around the place you need to have a library membership or a day's pass, which you can get without spending a single buck.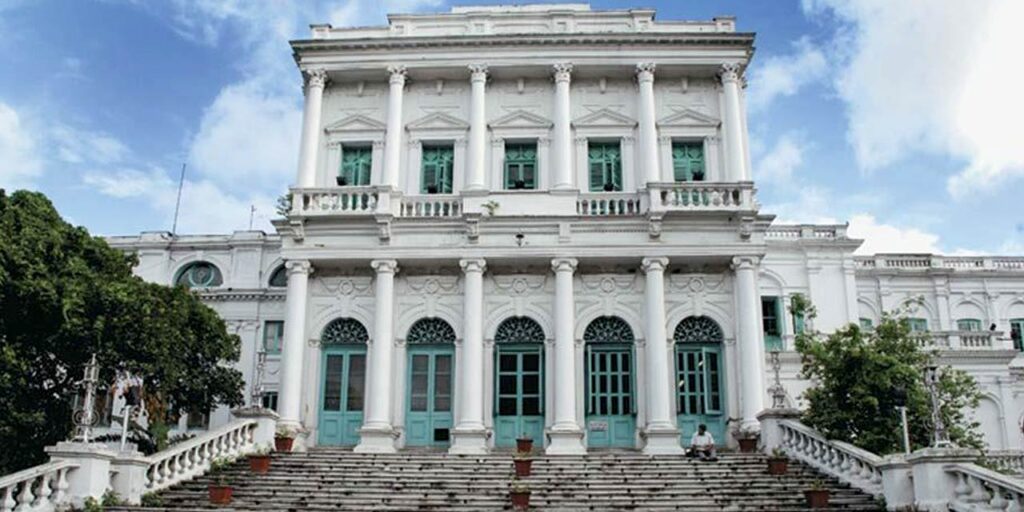 Visiting the Japanese Buddhist temple
The Nipponzan Myohoji Buddhist Temple which is famous as the Japanese Buddhist temple situated near Rabindra Sarobar is one of the most beautiful and well maintained and not so famous Buddhist temple in Kolkata. One can hardly spot any tourist inside the temple. It is even unknown to the most people of Kolkata. This temple was founded by Nichidatsu Fujii, a Japanese Buddhist monk to spread the teachings of Buddhism in India. This monastery is breathtaking and you will experience surreal calmness and peace. You can roam around or just sit by yourself for hours if you are looking for some alone time and positive vibes. You can even strike a conversation with the monks about their life in the monastery. You can visit anytime from 5:00 am to 8:00 pm any day but if you are looking for to attend the prayer, make sure to reach between 5:00 am to 6:30 am both in the morning and evening.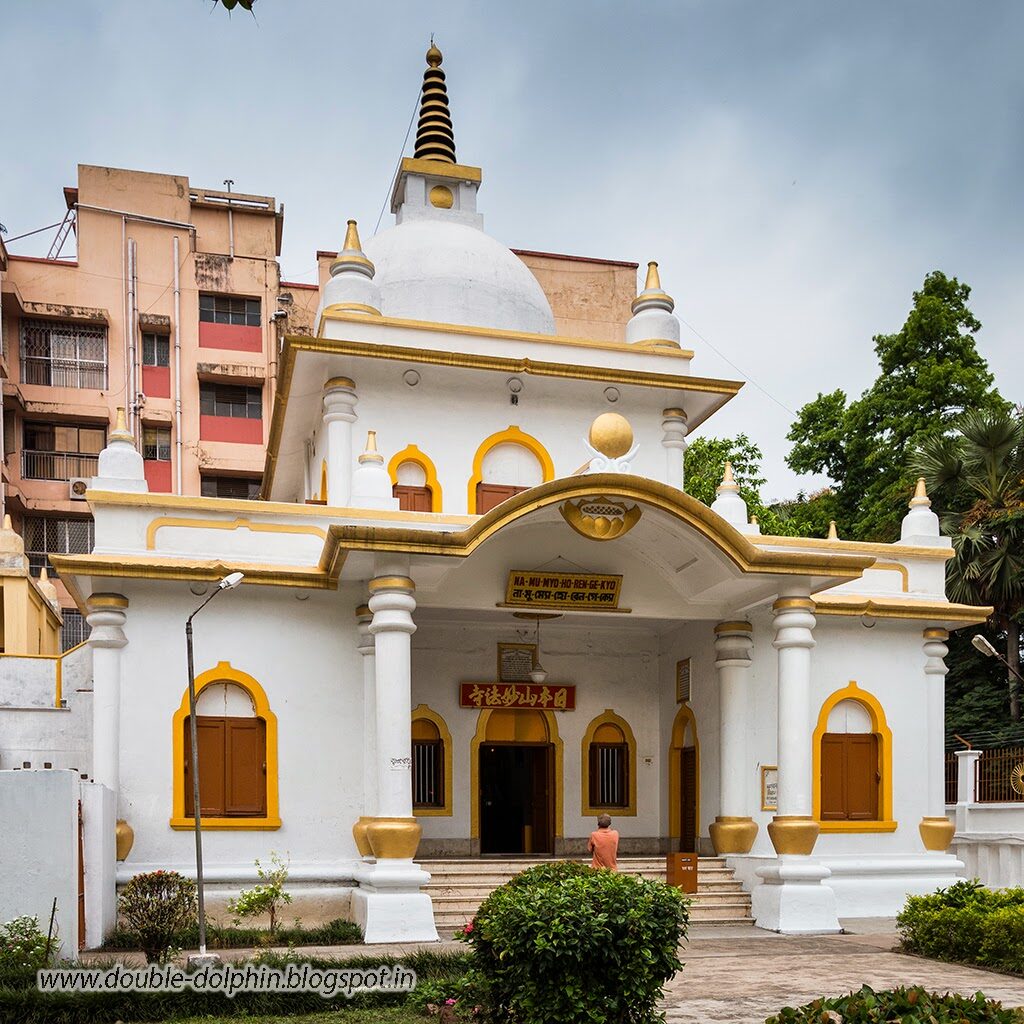 Exploring Serampore
This old colonial town is around 25 km away from Kolkata, situated in Hooghly district right beside the Hooghly river. This beautiful, historical town was discovered and colonized by Danes (people of Denmark) around 1755. This place is so rich in history and the mixed legacy of Danish, British and Bengali culture will make your trip unforgettable. While most of the Danish legacies are ruined, some of the places have been preserved and restored. Serampore Court compound, Serampore College, St. Olav's Church, Goswami Rajbari, the two cemeteries and few other places makes it earns its place on this list. This town has similarities to the old towns of Denmark. Every place has its own story to tell. There is also a museum which is called Carey Museum, situated inside the college building and is a must-visit place for history lovers. Inside this Museum there are rare books, manuscripts, artefacts which belonged to William Carey.
There is also a 230 years old Danish Tavern, which has now turned into a lodge and you can stay there if you are planning an overnight trip. This place will take at least a day to explore, so this really a nice place for an overnight gateway.
Riding A Tram
Kolkata is the only place where you can get to see and ride a tram. Once this was a very important mode of transport in Kolkata, but now they have been replaced with other means of transport. Most of the routes are dismissed now, but there are still few places where this heritage of Kolkata still runs. Currently there are seven Tram depots in Kolkata which are Belgachhia, Rajabazar, Park Circus, Gariahat, Tollygunge, Kalighat and Khidirpur. You won't often find people riding in a Tram because its slow and people are too busy. But if you are roaming around freely or you have a lot of time you can certainly take a tram. While I find myself riding a tram now and then and my favourite place to go mostly around the Esplanade area, or specifically which goes by Maidan area.
Watching Sunset from Ganga ghats
The last but not the least and undoubtedly my most favourite of them all is watching the sunset from a ghat by the river. There are many famous Ghats and park beside the river like Millennium park, Princep ghat, Babughat, Bagbazar ghat and the list goes on. But these places are mostly too crowded, so I like to find a less famous ghat by the river and enjoy the sunset. Watching sunset sitting by the river with a nice view of Howrah Bridge, cool breeze and the sound of water is just wholesome and it will certainly calm your mind. I generally spend a couple of hours admiring the beauty and I can't get enough it.
It's not so hard to find a secluded ghat by the river, reach Bagbazar or Ahiritola ghat and then take a nice walk by the river, you will surely find a place to sit and watch the sunset.