India, Land of Festivals is known for rich traditions and culture. With every joyous occasion comes the ever-popular Indian sweets for celebration. From rosogollas to modaks to halwas, India sweets would make you go weak in the knees. Gulab Jamun is one such desi pick we would prepare in this post. Though the origin of the sweet is up for debate, Gulab Jamun is popular in the Indian subcontinent for centuries. It is made from milk-based solids. There are two main methods of preparation – from khoya, dried whole milk thickened over the open iron pan or from powdered milk. I prefer the preparation using khoya as that gives an authentic taste.
Gulab Jamuns are widely popular in India with some version of the sweet being available in all sweet shops. Pantua is one such Bengali variant of the sweet along with Ledikeni which are widely popular in Bengal, roots of all tied to ever-popular sinful delightful Gulab Jamun. Let's dive into the recipe!
INGREDIENTS
100g Refined Flour(

Maida

)/All-Purpose Flour;
250g

Khoya

;
1/4 teaspoon Baking Powder;
50g Paneer;
1 cup Milk;
2 tablespoon Ghee (clarified butter);
5 tablespoon Refined Oil;
300g Sugar;
4-5 cardamom pods.
PREPARATION
Grate the paneer finely. Add Khoya, Baking Powder and Maida to the paneer and knead it. Add milk, as needed, to the dough and knead it into a soft dough. Let the dough rest for 15 minutes.
Prepare the sugar syrup in meantime by adding 300g sugar and few cardamom pods in 500ml water. Boil the syrup until sugar is dissolved and reduces by 25% of the initial content. Add a pinch of saffron colour to the syrup and mix it well before you turn off your stove. Sugar syrup for gulab jamun would be runny and very little stringy. Once the syrup cools overnight, it will turn into honey-like consistency. Hence special care must be taken to avoid too stringy or thick syrup. Keep it aside.
Take the dough and divide them into small pieces. Roll them into smooth balls without any cracks.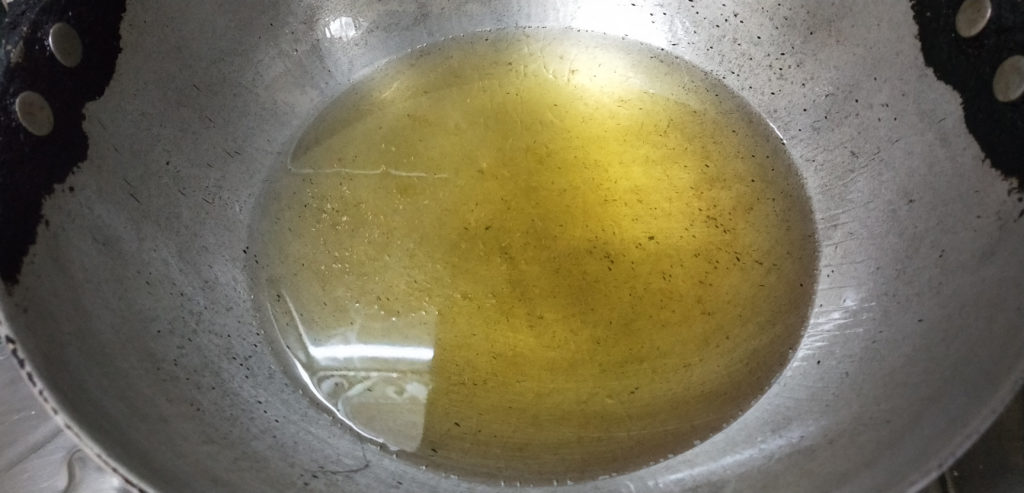 Take a broad base pot/Kadhai/wok and add the refined oil and ghee. Once the oil is hot enough, turn down the stove and add gulab jamuns in the pot. Fry them over a low flame until they are golden brown. Add lukewarm gulab jamuns to the lukewarm sugar syrup.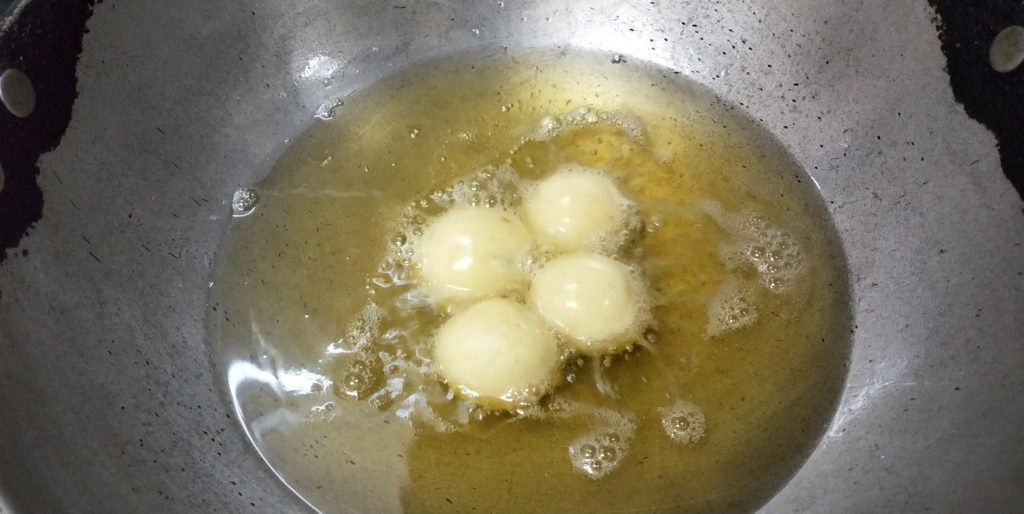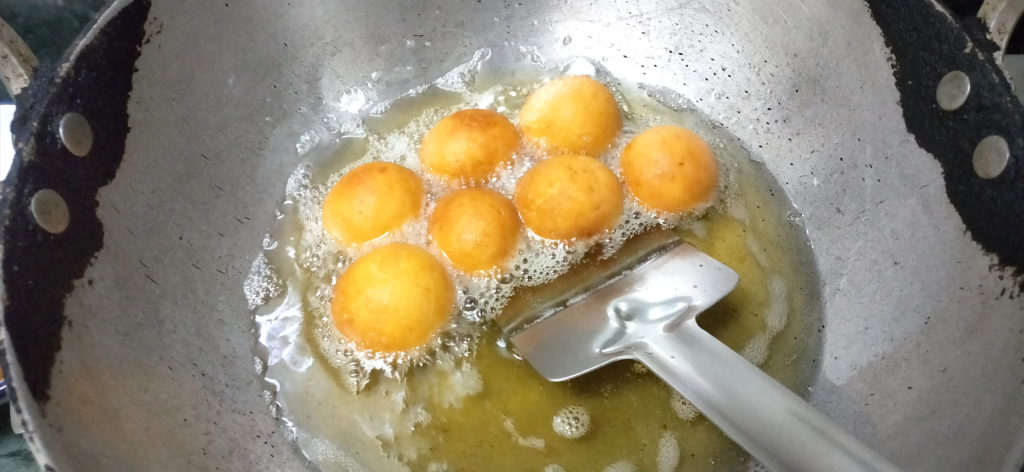 Let the gulab jamuns soak in the sweetness overnight or 6 hours. They are ready to serve.
Gulab Jamuns are served with sugar syrup, almonds, cashew nuts, saffron, rabri or ice creams. You can stuff them with crushed cashew nuts and almonds. Gulab Jamuns are the ideal dessert after sumptuous meals, festivals or celebrations and will boost your mood anytime. Try the recipe and share your feedback in comments below or on our social media pages your feedback.