Cake covers a wide range of preparations. In ancient times, it was more like bread with dry fruits and honey. The making of a cake includes the art of baking. Historians believe that baking was first adopted by the Egyptians around the 13th century. The early form of cake included mainly the fruitcakes and gingerbread. Since then cakes were made and served in different textures. It was later around the 18th century due to the fast-growing technology, the availability of the ingredients( e.g. refined sugar), and the inclusion of baking powder actually changed the art of making cakes. Since cakes can be prepared in a variety of flavors and with different ingredients in modern days, we would learn how to prepare a banana-flavored cake in some easy steps.
INGREDIENTS
All-purpose flour -1 cup;
Butter – 1/2 cup;
Baking powder – 1 teaspoon;
Milk – 1 cup;
Banana – 1(ripe);
Egg – 1 piece;
Sugar (powder) – 1/2 cup;
Grated dark chocolate (optional);
Dry fruits (optional)
PREPARATION
In a mixing bowl take the flour and add butter in it. Mix the butter very well with flour till it gets a smooth texture.
Now add baking powder and mix again.
Pour one cup milk into the mixture and stir well to form a thin dough.
Cut the banana into fine pieces and put them in a grinder.
Grind those banana pieces well to form a smooth paste.
Now add the banana paste into the cake batter and stir well to mix it properly.
Put one raw egg into the bowl to mix it with the batter.
Do not forget to add the powdered sugar to give your cake a sweet taste.
Now give the cake batter a good stir to mix all the ingredients very well. The more you whisk it the more fluffy and softer your cake will be.
Now take a pan and grease it with a little bit of butter. Put the cake mix into it. I have used here an aluminum saucepan.
Place a frying pan on the gas stove. Now take a metal stand and place it in the middle of the frying pan just like the photo.
Take the pan and keep it on the metal stand.
Cover the pan with any lid and cook it for 40 minutes. Do not forget to keep the gas flame low.
After 40 minutes take out the cake gently from the pan. Now the cake is ready.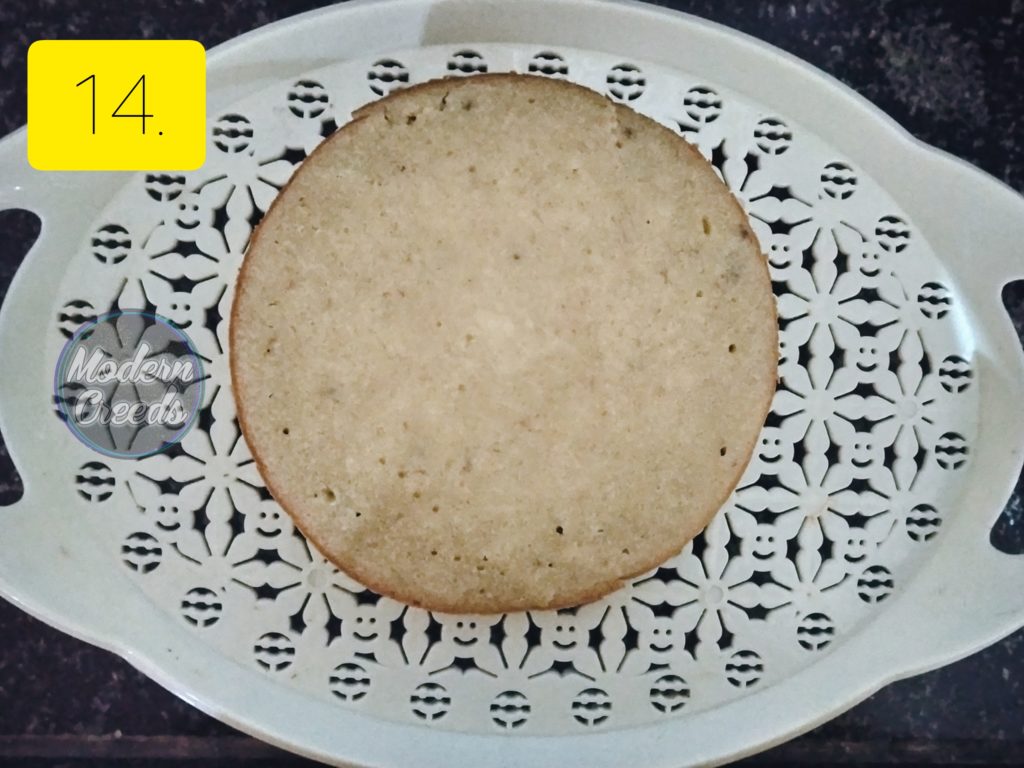 Here, I have sprinkled grated dark chocolate over the cake pieces and placed a dried blueberry on each of them.
The final prepared cake can be further decorated with several ingredients. This is actually the step where you can show your own art of creativity to decorate your cake. The decoration adds an unique identity to your cake.
Enjoy the banana flavoured yummy and healthy treat with your loved ones. Let us know in comments or on our social media pages regarding your baking adventure of this delightful cake.